Finding a Part-Time Job in Retirement – What do you want to do when you retire? At first, many people answer, "As little as possible." Or perhaps they decide to take a few trips they've been putting off. But in many cases, the novelty of sleeping in every morning wears thin after a few months or years. In many other cases, they find themselves short of cash for their retirement travels or lifestyle. So how do you choose a part-time job after you've cashed in your pension and deleted your resume? Here are a few ideas.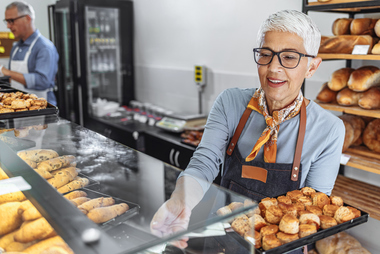 Go back to your old boss
What was your favorite job? If you ever had a career that you enjoyed except for the pressure and time commitment, consider setting up a meeting with your ex-boss and asking whether he or she needs a part-time employee. A post-retirement job is likely to be much less pressure, since you don't have a career to think of and can quit whenever you like. Besides, you could enjoy working with your former co-workers.
Consider customer service or retail
If you're an outgoing person, and especially if you have prior experience, customer service and retail are perhaps the most obvious places to look for part-time work. After all, it's increasingly rare for shops and restaurants to hire students, because few of them are willing to work around student's schedules, but these places are still constantly on the lookout for flexible part-time workers. If you don't mind being on your feet all day and don't need much in the way of money, you can take your pick of service jobs in your area. You may even be able to work at your favorite local business.
Consider a government job
America's national parks always need part-time and seasonal employees. You can find listings for park jobs on usajobs.com, along with listings for part-time clerical jobs at government offices, groundskeeper work and child care positions. The advantage of these jobs is that they tend to pay relatively well and have some benefits.
Think about your hobbies
If you have a pastime that you've never had time for before, now is the time to turn it into a career. If you're into arts and crafts, try setting aside time every day to paint or do woodworking. Then you can sell your products on social media, on a commercial site or in a consignment shop. If your hobby is cooking, you could work as a line cook or start a business as a caterer.
Substitute teach or tutor
School districts are almost always short of substitute teachers, so if being around kids appeals to you, consider getting certified as a sub. It's a flexible job, and you'll become a familiar face around your local school district. Or consider freelancing as an after-school tutor — in person or over Zoom.
Working part time is a good way to get out of the house and make some extra money during retirement. It can be a structured way to explore a hobby or job that you've never done or a limited way of getting back into your old career.
Copyright, 2022
Did you enjoy reading, Finding a Part-Time Job in Retirement ?
Interested in learning more about this subject? Attend our upcoming estate planning webinars!
Have You Properly Protected Your Loved Ones? (FREE Estate Planning Workshop), Trustee and Power of Attorney Training School Webinar, Medi-Cal Webinar, and/or Probate Webinar. Get registered today for our estate planning webinars!
This website is not intended to be a source of solicitation or legal advice. General information is made available for educational purposes only. The information on this blog is not an invitation for an attorney-client relationship, and website should not be used to substitute for obtaining legal advice from a licensed professional attorney in your state. Please call us at (626) 403-2292 if you wish to schedule an appointment for a legal consultation.
For more information about The Hayes Law Firm, visit our Google My Business page.
Thanks for reading, Finding a Part-Time Job in Retirement!
Latest posts by William Hayes
(see all)