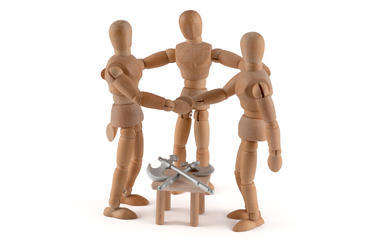 Caregiving issues often cause arguments among adult siblings because, after all, it's an emotionally charged issue. Questions like who takes in an elder and whether can they be relied upon to drive are thorny.
Sometimes the disputes get bitter enough to break up families. Is there another answer? Yes— turn to an objective professional, someone to lower the temperature and answer questions to help everyone find common ground. Such a person is called an eldercare, family, professional family mediator or adult family mediator.
When successful, a mediator can help avoid costly legal battles and keep families united, or at least on speaking terms. Eldercare mediators can help your family come to a consensus on a care plan. There are many legal implications surrounding an estate — the management of an elderly parent's finances or the work of a trustee. These issues can end up in court — an expensive and time-consuming process that can permanently damage family relationships. A mediator may be able to resolve problems in ways courts cannot, salvaging frayed nerves in an emotional situation.
Mediators endeavor to help family members think in new ways about how to solve problems themselves and get everyone on board. Successful mediation can mean getting families to attack the problem and not each other. Although some families see mediation as a last resort before a court appearance, many have found that early intervention, before tensions get high, is best.
How do you find eldercare mediators? It's always best to get a referral — perhaps from a health professional, hospital social worker, clergy or neighbors. There's an Academy of Professional Family Mediators directory you can peruse.
How can you discover whether the mediator you choose is right for your family? Here are some questions to ask:
What's your background? Here you are looking to hear about the person's training and area of expertise. See whether the mediator you're considering has had training in conflict resolution.
How long have you been in the field? Do you do this full time?
What's your approach? Many skilled mediators prepare by first determining the main issues and making sure the right people are at the table. One mediator says he speaks by phone to each person involved to discover his or her concerns and goals, adding that you want to make sure everyone agrees that the mediator is impartial.
Will our discussion be confidential? Privacy is important — you want to make sure the conversation is protected so you can speak freely. You want to ensure too that the mediator can't be subpoenaed after mediation is over if the issue goes to court.
What's your fee? It can be as low as $175 an hour or range from $250 to $350 an hour. Some may charge more. You might pay $2,000 to $3,000 for an intensive four-hour session. And you must have thought about this by now — the question of who pays for the mediator may become an issue.
What if family members have to travel from out of town? You may speak to the mediator about gathering for an intensive half- or full-day session.
How does mediation end? There is a written agreement called a memorandum of understanding.
While the process may sound like it involves a lot of money and a lot of work, you may find it's worth it to maintain or rebuild family bonds. And having your attorney close at hand for advice wouldn't be a bad idea, either.
Did you enjoy this article?
How Long Since You've Reviewed Your Estate Plan?
Read our past article, "How Much Does the Average Funeral Cost?"
https://www.losangelestrustlaw.com/how-much-does-the-average-funeral-cost/
For more information about The Hayes Law Firm, visit our Google My Business page.
This website is not intended to be a source of solicitation or legal advice. General information is made available for educational purposes only. The information on this blog is not an invitation for an attorney-client relationship, and website should not be used to substitute for obtaining legal advice from a licensed professional attorney in your state. Please call us at (626) 403-2292 if you wish to schedule an appointment for a legal consultation.
Latest posts by William Hayes
(see all)