Just How Much Is Jewelry Worth? – Evaluating jewelry and arriving at an accurate value is not easy. That's why dividing up the jewelry in an estate can lead to frustration. You may be entrusted with safeguarding family heirlooms for future generations. You may be expected to divide them for the estate of the deceased. You may want to hold on to some as keepsakes.
Just because a piece is old doesn't necessarily mean it's highly valuable financially. Though it may be a coveted collector's item today, it could fall out of style in the future, diminishing its worth. On the other hand, costume jewelry that may have been modestly priced when it was made may now be a highly prized collector's item.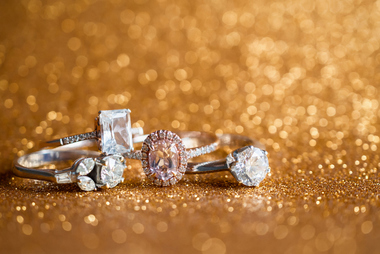 Variables in valuing jewelry include:
Today's gemstone and precious metal prices.
Quality of workmanship.
The particular manufacturer or designer.
The buyer.
The seller.
The marketplace. This can include the overall global economy, commodity prices, the local jewelry market, the way the piece is put out to market and the condition of the item.
Also, there are several ways to look at jewelry appraisal values:
Estate jewelry at retail value. This estimates the price an item would sell to a customer of previously owned jewelry.
Estate wholesale value. This is the price a jewelry business will pay. The jewelry needs to be in resalable condition and style. This is the value for inherited jewelry.
Intrinsic value. This is how much the raw materials that make up the jewelry are worth: a combination of the current metal and gem value. No value is added for style, condition, brand or market demand.
Regardless of what you plan to do with the inherited jewelry, one of your first priorities is to determine its value, in part so you can insure it for the proper amount. This means getting a professional appraisal.
To find an appraiser, contact one or more of the major associations that require their members to meet certain standards and adhere to a code of ethics. These include the Appraisers Association of America, the Accredited Gemologists Association and the National Association of Jewelry Appraisers.
You'll want your appraiser to have a gemologist degree so you know that the individual can identify and grade gem materials. An appraiser should be knowledgeable about the current jewelry market as well.
An appraisal should:
State clearly the purpose that it was performed to fulfill — insurance coverage, estate distribution.
Specify and define the type and value provided — replacement cost, fair market value, marketable cash value.
Specify the effective date of the appraisal.
State any circumstances that limited the performance of the appraisal.
Describe the jewelry in detail for the appraisal performed.
Include images of the jewelry.
Explain the procedures used to arrive at a value.
Be signed by the appraiser and include contact information.
Describe the qualifications of the appraiser.
The prices of precious metals tend to fluctuate dramatically, so appraisals should be carried out every few years to keep your insurance coverage up to date. Should you decide to sell your inherited jewelry, knowing its value will help you obtain a fair price for it.
And communicating that value to all parties concerned with estate jewelry is key: that the value standard being used is being applied equally to all pieces in the estate so that there's a fair and smooth disbursement of the estate.
Did you enjoy reading, Just How Much Is Jewelry Worth? Interested in learning more?
Join us for a free Estate Planning Webinar. Get registered today!
This website is not intended to be a source of solicitation or legal advice. General information is made available for educational purposes only. The information on this blog is not an invitation for an attorney-client relationship, and website should not be used to substitute for obtaining legal advice from a licensed professional attorney in your state. Please call us at (626) 403-2292 if you wish to schedule an appointment for a legal consultation.
For more information about The Hayes Law Firm, visit our Google My Business page.
Latest posts by William Hayes
(see all)